VY MEDIA offers innovative Internet advertising solutions in Turkey that promise brand message delivery, brand lift and better return on investment for online advertisers. These key solutions are performance-based brand advertising TYPE-IN™, skippable Pre-Roll as well as BrandTags.com — all of which are provided by the propriety platform developed by SOLVE MEDIA, an innovative technology firm.
Through Solve Media secure technology, VY MEDIA offers solutions that provide consumers with better user experience, publishers with increased captcha security as well as a new revenue stream, while advertisers get the most memorable online advertising in the world.
Solve Media's TYPE-IN™ advertising improves your CAPTCHAs, videos, and mobile applications with a simple solution that flat-out works. Innovative TYPE-IN™ ads create new revenue streams, improve user experience and increase security.
CAPTCHA TYPE-IN™ Ad
​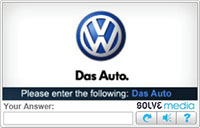 Pre-Roll TYPE-IN™ Ad
​
​Viewers recall your brand message and save time, even if they choose to skip the ad
Mobile TYPE-IN™ Ad
​
​The most effective mobile ad unit available, across all screens
A native ad with guaranteed human engagement, better user experience and superior results
Safe, Smart, & Simple
Security is no game. Many organizations have implemented unsupported, low-end CAPTCHA products, believing that all CAPTCHA solutions are created equal. Nothing could be further from the truth: those implementations are usually rife with bugs and security holes. It turns out that CAPTCHA is much more than a simple picture with letters and numbers. Good CAPTCHA provides human validation, fair access, and perimeter threat protection.
Captcha is more than just squiggly letters and pictures. SolveMedia use mathematical algorithms to calculate the probability of a user being a human or spammer before generating a puzzle.
Use The Science Of Learning To Drive Success
Learning through repetition has been used for centuries to help students ace their exams. It's why we make to-do lists and write best-man speeches down. The tactile act of physically capturing thoughts means you're 12x more likely to recall the information at a later date.
Solve Media was founded by veteran entrepreneurs and technologists focused on innovative Internet advertising solutions and security. The Company's proprietary online advertising platform, the TYPE-IN™, was designed to create new and highly effective opportunities for brands to advertise online. With the platform, Solve Media guarantees brand message delivery, brand lift and return on investment for advertisers. Additionally, the security platform creates new revenue opportunities for publishers and saves time for consumers. Backed by First Round Capital, New Atlantic Ventures, AOL Ventures, Bullpen Capital and prominent angel investors, Solve Media is based in New York City and Philadelphia having an office in London.