VY MEDIA's premier Music Monitoring service MusicTopTR includes in-depth analysis of the music usage on leading radio & TV stations nationwide. Key industry players are accessing Turkey's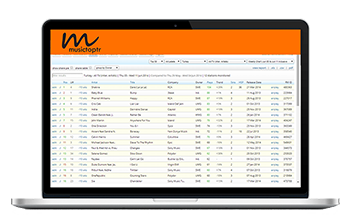 official music charts, market share data, radio & TV playlists and more
As a result, MusicTopTR is widely recognized by leading Artists, music labels, radio stations, TV stations, artist's managers, publishing companies and more as a superior tracking service.
MusicTopTR services include;
- Title reports and analysis by station, station
group, region, country and territory.
- Over 6,000 daily airplay charts by plays and by estimated audience across stations, station groups, regions, countries and territories.
- Emailed alerts for plays of specific tracks.
- Full stations logs.
- Extensive comparative charts and graphs.
- Historical data and analytics going back to year 2005
- Music market share data by Label / Company
- Historical Turkish vs. International market share reporting
- One click reporting for Major Labels
- Ease of use